Looking for a unique and modern way to attract new clients and customers?
Let Sarasota Wraps help you by showing you how a cost-effective, eye-catching wrap can give you a real advantage with this highly visible investment. Sarasota Wraps can turn your fleet vehicle, car, RV, or boat into a mobile billboard.
Vehicle Wraps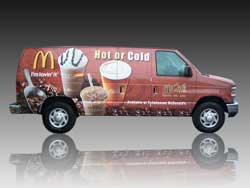 Vehicle wraps are a new and effective way to reach customers from a mass advertising aspect. When you see a wrapped vehicle driving around, it stands out and makes an impression.
Wrapping your vehicle with your business information and theme is the new and improved way of getting the word out.

Sarasota Wraps uses top of the line 3M wrap media with Oracal laminate (with UV protection) for years of advertisement potential.

Our Suncoast facility, equipped with state of the art technology, produces eye-popping results.
Boat Wraps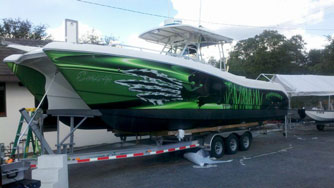 Our graphics designers can take your normal everyday fleet vehicle and it turn it into a money making advertising machine. From a thought to final conception, let us help design, print and install your wrap at our shop. Turn-around is usually less than a week.
Whether on land or sea, let Sarasota Wraps wrap your ride. Call us today at (941) 376-1043